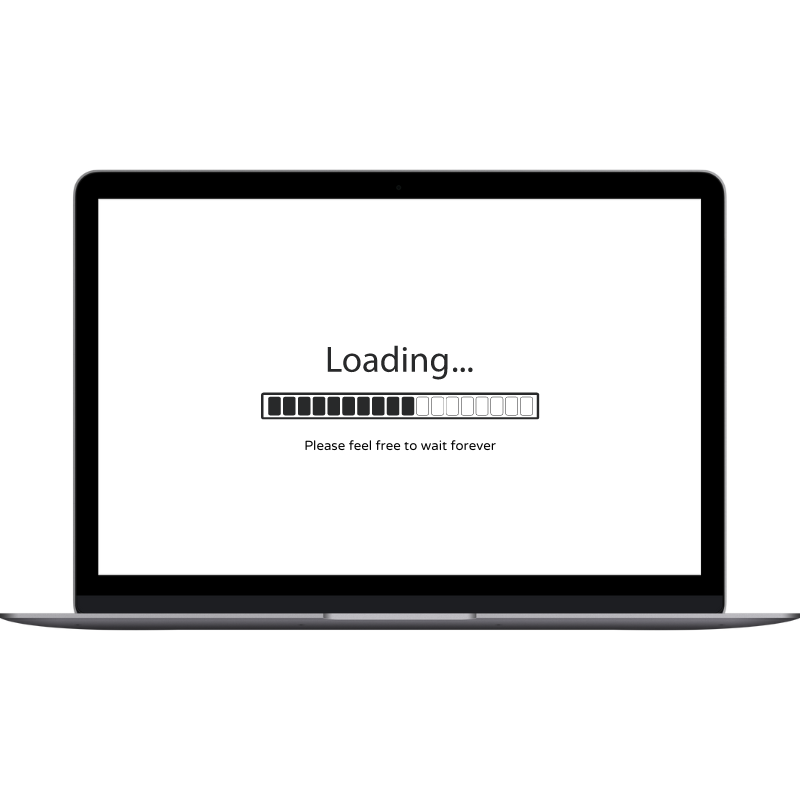 Speed optimization
3 seconds = goodbye
On average, visitors wait 3 seconds for a page to finish loading. Then they leave. We make sure that doesn't happen.
Examples of actions:
Compression of images and videos
More modern file formats for images and videos
Compression of CSS / JavaScript code
Load images with Lazyloader
Remove unnecessary code and resources that block the page's initial rendering
Conversion optimization
Help visitors become customers
Conversion optimization means that your website is optimized with the aim of getting more of the visitors to become customers. The average today is between 1-2 % depending on the industry, we'll make sure you get over that.
"During covid iMarketing increased our conversion rate from 1.5 to 2.8% by adding a banner to our checkout portal.
iMarketing has a personal and committed attitude towards us as a customer. They are responsive to our wishes and needs in everything to do with marketing, advertising and website.
Katja Lillhage
2022-03-22
iMarketing made my website and I felt from the first conversation that they understood my idea. I was very satisfied with the website and felt that I received good and fast service during the entire construction of the website. Can highly recommend iMarketing!
Alexander Stävensjö
2021-07-15
Fast, creative and talented developers who helped us develop a new website. Highly recommend!
We are very satisfied with our new website and the collaboration with Marketing AB. Especially with John Hagö listening to and implementing our wishes so perfectly. Highly recommended. Dorothea & Stig / cestlavie.nu
Hi Recommend IMG media with ❤️Had problems with my website before which is now safe. Thanks for the help. I can be seen much better now, than before, on regular ad pages. The best part was their attention to my desire with my website. Many thanks Pia/Gunilla hairdressers
Alexander Rasch
2021-02-13
Thanks for all the help with our landing pages ❤ really increased our sales
Ludvig Listring
2021-01-12
Super! Very satisfied.
In order to be able to satisfy the high demands that your potential customers place on your website today, a good start is always to review how you are currently doing. Enter into PageSpeed Insights or gtmetrix and enter your url and you will quickly find out about improvement opportunities on your website.
Then we understand that everyone who has a website today is not a hacker who can immediately jump in and compress code or even images & videos. So there we have another reason why iMarketing exists, we take care of everything for you!
Read more about how we can do an initial analysis of your website here!
common questions and answers
The rule of thumb is that no page should take more than 2 seconds to load. However, we usually aim to keep the loading time under 1.2 seconds to minimize the risk of dropouts.
It depends a little on where your website is built. Websites in wordpress can be optimized via various plugins that compress part of the code for you, others are good for compressing images and the like.
If you have no experience with wordpress or coding, it can be good to get help from someone who can, it will save you a lot of time that you can instead spend on what you do best, your own business.
Conversion optimization means that your website is optimized with the aim of getting more of the visitors to become customers.
If your website has 10,000 visitors per day and your conversion rate is 1 %, this means that you get 100 customers per day. If average order value = SEK 400, then an increase in the conversion rate of 0.5 percentage points means that you directly increase your daily turnover from SEK 40,000 to SEK 60,000 per day.
Average conversion rate today is 1-2 % but it varies greatly depending on the industry. Many agencies and marketing agencies work hard to increase traffic to their or clients' websites in the hope that the traffic will automatically convert to customers.
Unfortunately, the traffic is often the easy part, while the challenge is the conversion. Take yourself as an example, how many times have you personally visited an e-commerce without completing a purchase?
Fortunately, there is a lot you can do to improve your conversion rate. Here are some points that can help or that might be good to think about:
1. Create CTA (Call to action) buttons with text at the beginning of various blog posts / pages instead of having buttons at the end of the page.
This is important because Banner blindness makes people immune to banners and other larger buttons that clearly want to lead one to perform a certain action. It can be more effective in some situations to have plain text in heading format that instead acts as buttons.
2. Add Popups to your blog.
Here, of course, it's all about doing it minimalistic and with style. No one wants to feel bombarded or receive irrelevant messages that cannot be removed. Make a really nice popup that immediately gives value to the visitor.
3. Use Facebook and Instagram retargeting ads to bring back the most interesting ones.
No matter how well you succeed with conversion optimization, most people will always leave without buying. That's why retargeting is so great. This allows you to reach those who were most interested again, so that they come back. Read more about retargeting advertising HERE.
common questions and answers