Locate problems
With our program, we immediately identify problems and improvement measures on your side. We scan everything: images, texts, keywords, link structure and then get a ready priority list.
See the improvement
As soon as we have fixed the problems, you will receive a report that clearly shows the improvements in each area. Furthermore, we carry out ongoing competition analyzes and find which keywords you can immediately rank higher for to drive the right traffic to your website.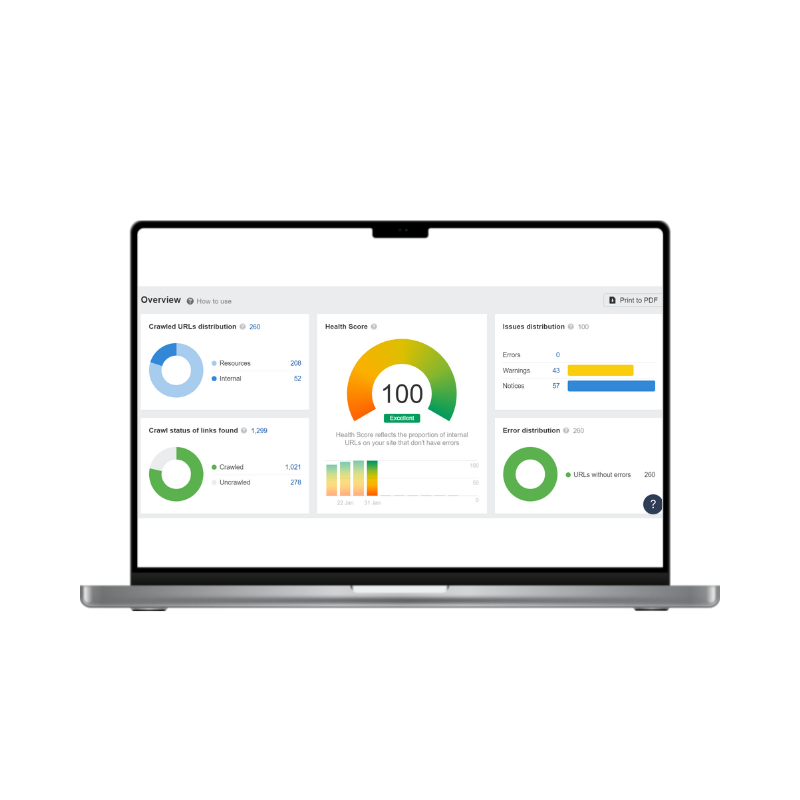 Award
See which package suits you
Basic package
SEK

7890

Per month
Keyword analysis
On-page optimization
Speed optimization
Technical SEO
Off-page
Reporting
Get started
Standard
Most popular
SEK

12790

Per month
Everything in the basic package
Semantic SEO
Core Web Vitals
Content Marketing
Competitive analysis

Monthly reporting
Get started
E-commerce
SEK

19970

Per month
All in the standard package
E-commerce SEO
Link building
Conversion optimization
Monthly reporting
Get started
Ready to drive more traffic to your website?
We make it easy to bring in more customers
If you don't see, you don't exist
That has never been more true. Today there are over 1.7 billion websites about everything between heaven and earth and there you sit and think about why you don't get enough traffic to your particular website. What am I doing wrong?!
Most likely, you are not doing anything wrong at all, but just too little of what is right. When it comes to SEO, there are many companies that have full-time employees who work on everything from writing alt texts (naming images) to writing blog posts filled with internal links, backlinks and other.
So for most entrepreneurs out there, it's obviously not possible to compete with the giants on that front.
It is probably also quite expensive to buy exactly the same keywords as they do via Google Adwords. BUT. Hope is not dead for that. For every website out there, there are approximately 4.51411765 people. And besides, many of these websites are inactive, ancient, and - or completely empty. So there is plenty of room for you to be found too, you just need to find the right niche. There we have it.
The keyword of all keywords within keyword SEO. Niche. If you do not have a clear niche and target group, we will help you with that. We will then help you come up with a foolproof SEO strategy that will allow you to cut through all the noise and get straight into the search fields of your most relevant target groups. And guess who else is there? Precisely. your future customers.
Please read more about how we can help you with an initial analysis here.
Get in touch and we'll be happy to tell you more!
common questions and answers
SEO means that you optimize your website to become searchable on Google and other search engines. What we work with when we carry out SEO tasks is to make sure that the page has a clear structure, good speed, focus on the right phrases and keywords in descriptions & texts, and that everything is as readable as possible for the search engines. All of these parts are incredibly important for, for example, Google to understand what value your page provides to its visitors, in order to then be able to display your page in the most relevant searches.
SEO costs as much as it tastes. There are so many different ways to increase your SEO today, so it depends entirely on which way you want to go and where your website is built. In wordpress there are several good free plugins to work with, such as YOAST SEO & Rankmath SEO. Otherwise is uber suggest a good tool if you want to invest a little money but a lot of time yourself. If you don't want that, we are more than happy to help you achieve full potential, then it will be a slightly higher cost, significantly better results, and in 99 % of the cases a final ROI that tastes much more than it costs.