AI and recession
2023 opens with a solid buzz about the impact of AI and ChatGPT on global marketing trends in 2023. But while it's undoubtedly a topic worth exploring, there's another elephant in the room – recession.
It's not the funnest topic, but it's a reality that all businesses must face this year. To help you navigate these uncertain times, we've gathered the brightest minds in marketing to share their expertise. So buckle up and get ready to learn about the most impactful trends and how the recession will shape digital marketing in 2023.
Major Marketing Trends
Marketing in economic turmoil
In a recession, there are always great opportunities for the quick, and it is up to savvy marketers to take advantage of them and create winning strategies that can lead their organizations forward. Here are three big trends shaping the future of marketing.
Evaluation of your marketing
With changes in how data is collected and used, the traditional methods of measuring results are no longer sufficient. Therefore, you should invest in Data Driven Attribution (DDA) for evaluating your marketing and how you should allocate your budget. In a data-driven world, it is not enough that all products or leads that come in via the website are valued according to the same model. They need to be adjusted based on actual value.
In Google Analytics, you can enable DDA in the platform itself to get a much better idea of how each Google channel affects conversions. To do this you need:
be a Google Analytics 360 customer or use GA4
have either e-commerce tracking or goals set
have one Google Ads account with at least 15,000 clicks on Google Search and with at least 600 conversions within 30 days
Personal marketing
In a downturn, competition for customers is fierce and companies must differentiate themselves to win and keep business. According to Salesforce the majority of consumers expect all direct communication to be personalized, and contain messages and offers based on their preferences. By using first party data to better understand customer needs and preferences, companies can create more relevant and engaging experiences, which is what consumers want and what GDPR allows. In fact, a recent study by PwC found that over 80 % of consumers are willing to share more personal information in exchange for a better experience.
Automation
With cost reduction high on the priority list, marketers are under pressure to find ways to streamline their processes and reduce costs in this recession. Thanks to advances in technology, tools are now available to automate repetitive tasks, freeing up resources for more strategic and creative initiatives. The focus on efficiency is also driving companies to try new marketing channels, including emerging platforms like TikTok and Snapchat, to reach their target audience in the most cost-effective way possible. By embracing efficiency, companies can find the optimal balance between traditional and digital media and maximize their marketing investment.
In summary, these major marketing trends represent an opportunity for businesses to not only survive but grow in 2023. By embracing data-driven analytics, personalized marketing and automation, savvy marketers can position their organizations for success and lead the way to a brighter future.
Trends for advertising on Social Media
The future is social
The coming year will be an exciting one for digital marketers, with a continued focus on social media and emerging platforms as the key drivers of growth. Deloitte's annual CMO Survey predicts that despite the ongoing economic recession, companies will increase their marketing budgets in 2023, shifting investments away from traditional marketing and towards social media and new channels.
The king of the App Store – TikTok
TikTok was arguably the breakout star of 2022. The platform has skyrocketed in popularity and cemented itself as the most downloaded app in the world. With a user base dominated by younger generations and a growth trajectory that exceeded even the most optimistic predictions, it's no surprise that TikTok is a top priority for marketers looking to reach a massive and engaged audience at a low cost. Especially in B2C. However, its ties to China have caught the attention of lawmakers in both the EU and the US, leading to some challenges for the platform and its advertisers. Nevertheless, brands are still eager to explore the platform and tap into its great potential.
New players, new opportunities
The social media landscape is always changing, and 2023 is no exception. As the market develops, new actors appear and create new opportunities for marketers to connect with consumers. One platform to keep an eye on is BeReal, which has shown strong signs of growth and is already attracting interest from some brands. Research from Kantar supports this trend, finding that consumers are most receptive to ads in newer digital environments, such as Snapchat, Twitch and TikTok.
Vertical video takes the stage
If there's one thing that's certain, it's that video will continue to rule. The vertical full-screen format is no longer the focus as TikTok, YouTube Shorts and Instagram Reels drive the trends. As the format evolves, marketing departments must also be quick on the ball. One way to ensure your brand's content lives up to the hype is to work with content creators, who can showcase your products and build your community in an authentic and engaging way. When over half of all video consumed on mobile devices in 2023 is in the vertical format, you can't afford to ignore it.
Data-driven decisions for maximum impact
Lost user data caused by the iOS 14.5 update in 2021 caused brands to reevaluate their investments and focus on first-party data. 2022 thus became a year of experimentation and learning, and the results are clear: by using data-driven insights, brands can optimize their spend and maximize the impact of their ads. Although some platforms, such as Meta, have increased their effectiveness over the year, signal loss will continue to be a problem in 2023. For advertisers, it is important to invest in first-party data solutions and explore new methods to strengthen their marketing efforts and stay ahead of the curve.
Digital marketing trends for Google Ads
Before 2023, advertising on Google faces a series of obstacles from various fronts. The economic slowdown, combined with smaller marketing budgets, has made it difficult for companies to prioritize growth. At the same time, data privacy has become a major concern, which is completely changing digital marketing. As a result, adaptability is now the key to success.
Artificial intelligence dominates among Google Ads
The era of AI technology in the Google Ads industry shows no signs of slowing down, with the standardization of Broad Match, Smart Bidding, and Performance Max. This change means that unique strategies developed for certain platforms no longer dominate. In 2023, the emphasis will be on understanding the customer journey and tailoring marketing with creative and personalized messages.
Google's launch of Performance Max has left some advertisers feeling like they've lost control. However, new features for Performance Max are expected to launch in 2023, giving marketers new opportunities to prioritize and increase performance and operational efficiency. While that may be exciting news to some, it may also leave some advertisers searching for campaign strategies to take back control. Advertisers must be aware of the potential pitfall of getting lost in small details and losing sight of the big picture. Keep it simple and let the data guide you.
Navigate privacy with innovative solutions
The arrival of new privacy legislation and the removal of third-party cookies by Google and Chrome, presents a challenge for digital marketing. As traditional tracking methods become less reliable, advertisers must find new ways to evaluate their ads by expanding their toolset and collecting data from multiple sources. To address these changes head-on, advertisers need to focus on their first-party data and develop innovative solutions based on it. By using their own data, advertisers can gain a deeper understanding of their target audiences and optimize their bidding strategies.
2023: A year of challenges and opportunities for Google Ads
2023 looks set to be a challenging year for Google Ads, but it also brings new opportunities for the bold and daring. With increased emphasis on efficiency and profitability, the advent of AI technology, and the impact of data privacy concerns, advertisers must be more strategic and innovative than before.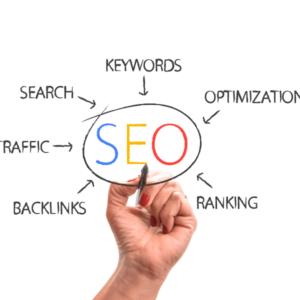 Digital marketing trends for SEO
Embrace the power of AI and social media
Get ready to experience a digital revolution as the launch of ChatGPT changes the way people search for information online. But ChatGPT is not the only player shaking up the SEO world. TikTok has also become a popular source for information, inspiration and content, proving that the way we search for information is constantly evolving.
With AI at the center, adopting a holistic SEO approach is critical. This means you need to adapt your content and creative strategy through SEO analyzes to better understand user demand on different platforms and increase your organic reach and presence.
An AI-powered output may seem like the ultimate solution, but it's important to remember that it's just a tool to help you be more efficient. Google still emphasizes the importance of human-generated content, so in the meantime, we all have a chance!